TIANA is unrivalled, no one can offer the quality and nutrition what we offer. Our customers trust the TIANA Brand and are confident that what they buy is what they will get. Why choose anything else when you can choose the Very Best - TIANA.
Our raw materials are produced at factories which are BRC ISO 9002, HACCP and Organic Accredited. Produced to be different, there are up to 20 quality control tests before the products are shipped to the UK.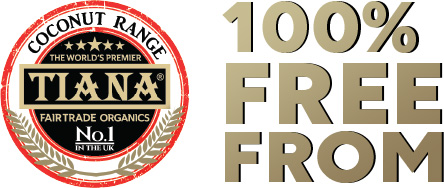 Only the Very Best only from TIANA Fair Trade Organics! Specialising in Free-from Foods, Supplements, Beauty and Pet care.
Lactose Free, Dairy Free, Gluten Free, Wheat Free, Soya Free, Nuts Free, Starch Free, Sulphates Free, Yeast Free, Fish Free
and
No Sugar Added
. Free from GMO, Artificial Colours or Flavours, Preservatives and Additives.